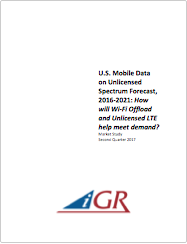 Purchase Details
Title: U.S. Mobile Data on Unlicensed Spectrum Forecast, 2016-2021: How will Wi-Fi Offload and Unlicensed LTE help meet demand?
Price: $2,250.00
More Details: Abstract & TOC
Customer Support:
Please contact
Iain Gillott
President
iGR
by email: iain@iGR-inc.com
by phone: (512) 263-5682
Delivery:
A PDF of the research report will be available for download after your purchase has been completed.